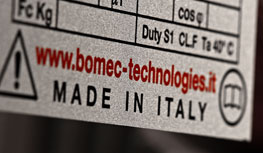 BOMEC is a dynamic and flexible company present on the market since 1972.
Over these past years it has always designed and realized a wide range of perfectly performing and high quality products. From planning to production, the whole process is exclusively made In Italy and good quality is its main objective and its mission. It is with this spirit that we have always worked and we will keep on going this way.

In order to realize all this, every phase of the working proccess is subject to rigid qualitative tests; before assemblage, each part is individually tested and once the motor is assembled, it has to pass several trials, in order to guarantee the best possible quality.

BOMEC has always tried to work in harness with its customers; thanks to this approach, it has been possible to create products that meet the technical requirements of the market and to develop products with innovative and more and more performing solutions, especially designed around the clients' needs.